Celtics handed tough loss by Orlando, 105-103
The
Boston Celtics
paid the price for a rough night's shooting, losing 105-103 to the
Orlando Magic
. Despite a late rally, Magic would hand the Celtics another defeat.
Kyrie Irving
top-scored on the night for the Celtics with 25 points, 5 rebounds, 6 assists, while Marcus Morris added 17 points and 8 rebounds. Ultimately though, it was Orlando's night thanks to a big performance from
Aaron Gordon
who led his team with 28 points, 12 rebounds, shooting 12 0f 12 - 100% from the free throw line. Terrance Ross also had a big night of his own with 25 points, as the Celtics slip to its second straight loss on its current 3-game road trip.
The Celtics had a mixed first quarter
, the team shot into a 12-5 lead thanks to Marcus Morris, Marcus Smart, and Kyrie Irving. It was
Smart
who would provide the highlight of the quarter, driving to the rim before finishing with an eye-catching reverse lay-up. Despite a hot start, things quickly changed as the team
struggled from the Free Throw line - only managing 3 from 8 attempts
. Jayson Tatum was also finding it hard to get going missing all five of his first attempts. This would spark a comeback from Orlando who had
previously gone 2 of 11 from the field
and in particular Aaron Gordon, who finished the first with 11 points, and 5 of 5 from the charity stripe. Morris and Smart top-scored for Boston with 5 points each. Scores were tied after the first at 19-19.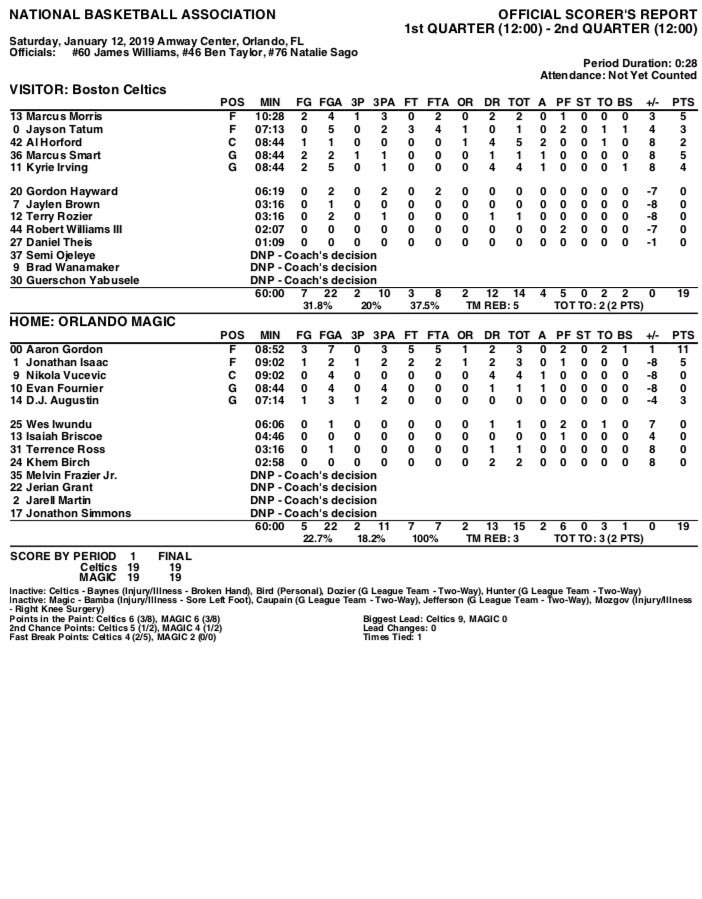 The second quarter started pretty much as the first ended,
Celtics failed to score from twelve straight attempts
, going six minutes without a field goal. Gordon picked up from where he left off, as he went on to score 11 straight points and building Orlando's lead. Terrance Ross took full advantage of his four-point play opportunity, Kahem Birch then had a big-time block as things started to spiral out of control for the C's. Gordon Hayward, Tatum, Jaylen Brown, and Kyrie,
who dropped in an outrageous hook shot
rallied the team into a 10 point lead for the Celtics at the half - 51-41.
— Boston Celtics (@celtics) January 13, 2019
The third would start just how Brad Stevens would have hoped, as the team
traded blows with Orlando with Al Horford and Tatum leading the way
. Nikola Vucevic helped himself to three chances he had down low before Boston steamed ahead on a fastbreak to extend it's lead to 12. That lead would then be cut down to just five after Terrance Ross hit a
buzzer beating three-point shot to end the quarter
. Celtics led 77-72 heading into the fourth.
It was Ross would then hit yet another three as the
Magic started to smell Boston blood
, Gordon too got in on the act by taking full advantage of a Terry Rozier turnover to squared the game up. Ross, Gordon and Evan Fournier would then go on a rampage and put Magic up by seven. DJ Augestin stretched the lead further to nine as time started to run out on the Celtics.
Kyrie and Morris fought hard to bring the team back within touching distance
, cutting it to just three as the Magic started to wobble. It was then down to crunch time and with around 10 seconds to go, Irving was sent to the line with the chance to cut it back to one, which he did, and with Vucevic at the line making one of two there was three second left for the Celtics to tie or win with a three.
Kyrie didn't look happy after this final play in the Celtics' loss. pic.twitter.com/lPnsjjfg1G

— SportsCenter (@SportsCenter) January 13, 2019
The ball would be inbounded and find Tatum, who had a
clear look at a fadeaway two for the tie
, but it missed and badly. Orlando would go on to claim the win and send Boston to its second straight loss, and after the buzz
Kyrie looked very upset with something
, it possibly could be Tatum for blowing a chance to tie or maybe even the play that was called. Either way, it was a night to forget in Florida (AGAIN) and a tough defeat for the team.
The Celtics now travel to Barclay's Center to face the Brooklyn Nets on Monday night to round off the 3-game road trip, a team which they beat the last time they tasted victory.
What did you make of tonight's loss?, Leave a comment and let us know.

- Follow Tom on twitter - @tj_wade27

Image via Fernando Medina/NBAE/Getty Images