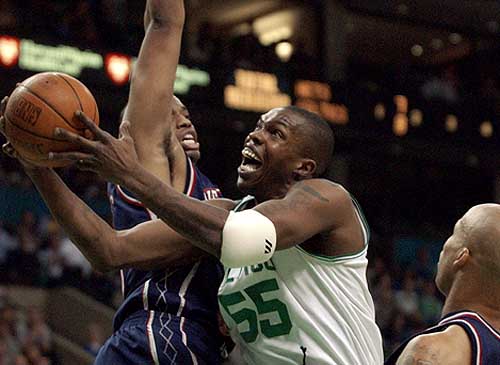 We all know that
Antoine Walker
has had a tough go of things since he left the NBA. He was a centerpiece of ESPN's special "Broke" as he lost all his NBA earnings. Well it appears that 'Toine's fellow starting forward on the 2002 Eastern Conference Finals Boston Celtics team isn't doing all that swell himself according to this week's go to source for NBA news,
TMZ
.
Former NBA player Eric Williams -- who spent 12 seasons in league -- says he is homeless and broke … this according to legal docs obtained by TMZ Sports.



The most successful Celtics team between 1988 and 2008

Williams -- who's on the hook for more than $24k in unpaid support to the mother of his 13-year-old son -- also says his financial situation is so dire, he can't afford airfare and has no money to pay a lawyer.
Williams and 'Toine aren't the only Celtics from that fun 2002 team to hit hard times.
Rodney Rogers has been paralyzed for several years now
and
Kenny Anderson
has also had financial issues (
He also bravely discussed last year having been sexually abused as a child
). Hate to see all these former Celtics who brought us joy going through tough post playing days ordeals.
JR
5/03/2014 04:41:00 AM
Tweet
Edit
_______________________________________________________________
« Prev Post
Next Post »