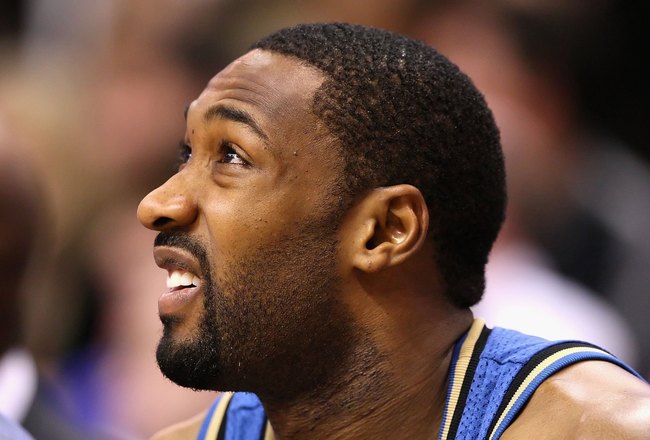 I've been reading all over about how all these players are going to be released under the new Amnesty Clause. I've also heard about how all these players will be heading straight to contending teams. But that isn't exactly how it will all work out.
Here's the reality:
After a player is placed on waivers, under the Amnesty Clause, he will first have to pass a 2 day period where any team can claim his full contract. After those 2 days pass he will then be entered into a bidding war. During this time teams will offer the highest bids to take on that player. The original team will then be stuck paying the total contract value minus what the player is paid on his new team.
Here's a great example from Chris Sheridan
Let's say the Orlando Magic decide to release Gilbert Arenas, who has $62 million remaining on his contract over the next three years, including $19.2 milion in the upcoming season.

Arenas would first be placed on waivers, and it is safe to say that nobody is going to claim that contract during the 48-hour waiver period. But Arenas would then be placed on "secondary waivers," and teams will space below the salary cap would be allowed to place bids on him. If the Sacramento Kings, to use a random example, were willing to spend $6 million to acquire him, and no one else made a higher bid, then he would become the Kings' property (and the money the Magic would have to pay him this season would be reduced by whatever Arenas' new team is paying him.)
Another factor in this is that under the new CBA, all teams have to spend up to a certain percentage of the salary cap. There are a lot of team out there who aren't very close. Some of those teams are the same one's who will be letting go of some bad contracts. Celtics, Heat, and Lakers fans might have to come to grip with the fact that Rashard Lewis and Baron Davis could be released... only to be taken by other mid to low level teams.
Jesse Dampolo
11/28/2011 09:45:00 AM
Tweet
Edit
_________________________________________________________________________
« Prev Post
Next Post »