at
Boston Celtics (33-18) at Lakers (42-13)
February 17
10:30 PM ET
Regular Season Game #47 – Road Game #22
TV: ABC, CHCH-TV
Radio: WEEI, ESPNR, KSPN
Staples Center
Referees: Joey Crawford, Marat Kogut, Tom Washington

When the schedules came out before the season, there were two games that every Celtic and every Laker and their fans circled. This is a rivalry that goes back before many fans were even alive. For many years, this classic rivalry was dormant while the Celtics suffered through years of mediocrity and even worse. But the 2008 finals brought the rivalry back in a big way and last year's finals took it to another level.
This game has even more meaning than most Celtics/Lakers games. After last year's loss in game 7, every Celtic has had that memory haunting him and this is their first chance to get some measure of revenge. Shaq has made no secret that he felt that he was treated wrongly by the Lakers and he signed with the Celtics with the main thought of winning another championship to keep Kobe from being one up on him. Perk felt the loss even more acutely than his teammates because he knew that if he could have played the outcome would have been different and there was nothing he could do to help his team.
This game also takes on a bit more importance when we accept the predictions that it will be the Celtics and Lakers in the finals again this year for the rubber match. Along with Perk's absence, home court could have made a difference for the Celtics in last year's finals. The Celtics realized the importance of home court and have been taking the regular season a bit more seriously this year. This gives the head to head games between the Celtics and Lakers a bit more importance than just your average regular season game.
Both teams lost to a sub-.500 team on Friday night. The Celtics were playing in back to back games on the road after traveling overnight and getting to their hotel at 4AM, along with losing an hour due to a time zone change. The Lakers were playing at home with 2 days rest. Both teams are 7-3 in their last 10 games. The Celtics are 13-8 on the road while the Lakers are 18-6 at home.
Last season, the Celtics and Lakers split the series 1‐1 with each team winning on the road. Rajon Rondo led the Celtics with an average of 17.5 points and 11.5 assists to go along with 3.5 steals per game. Ray Allen netted 15.5 points per game while Kendrick Perkins added a double‐double with 10.5 points and 12.0 rebounds per game. Kobe Bryant led the Lakers with an average of 19.0 points per game while Andrew Bynum averaged a double‐double with 16.5 points and 10.0 rebounds per game..
After poor showings in their last 2 games. we can only hope that the Celtics come into this one focused and ready to play. Regular season games don't get much bigger than this one.
Probable Starting Matchups
vs
Rajon Rondo 10.5 PPG 12.5 APG 2.4 SPG
Derek Fisher 6.6 PPG 2.8 APG 1.4 SPG
vs
Ray Allen 17.1 PPG 3.1 APG .455 3P%
Kobe Bryant 25.1 PPG 4.9 APG .306 3P%
vs
Paul Pierce 18.9 PPG 5.0 RPG 3.2 APG
Ron Artest 8.2 PPG 3.0 RPG 2.0 APG
vs
Kevin Garnett 15.0 PPG 8.9 RPG 0.7 BPG
Pau Gasol 18.4 PPG 10.6 RPG 1.9 BPG
vs
Shaquille O'Neal 9.8 PPG 4.9 RPG 1.1 BPG
Andrew Bynum 15.2 PPG 8.2 RPG 1.5 BPG
Boston Bench Mob
KENDRICK PERKINS (YAHOO!!)
Marquis Daniels
Luke Harangody
Nate Robinson
Von Wafer
Semih Erden
Injured
Jermaine O'Neal (knee) out
Delonte West (wrist) out
Glen Davis (hamstring) questionable
D-League
Avery Bradley
Lakers Reserves
Lamar Odom
Steve Blake
Shannon Brown
Luke Walton
Derrick Caracter
Devin Ebanks
Joe Smith
Injuries
Matt Barnes (knee) out
Theo Ratliff (knee) out
Key Matchups
vs
Rajon Rondo vs Derek Fisher
Rondo had substandard games in Portland and Phoenix and as Rondo goes, so goes the Celtics. The Celtics need him to bounce back and have a big game in this one. Fisher struggles with stopping younger PG's. Rondo must be aggressive in this game and exploit that weakness. On the other side of it, Fisher is capable of hitting big shots and Rondo must play tough defense to keep Fisher from getting hot.
vs
Kevin Garnett vs Pau Gasol
Kevin Garnett is the heart of the Celtics and he has been playing very well this season. Gasol may be more important to LA's attack than even Kobe and so it will be important for KG to limit Gasol and be aggressive on both ends of the court to make him work for everything he gets.
Honorable Mention
Every Other Matchup
Ray Allen vs Kobe Bryant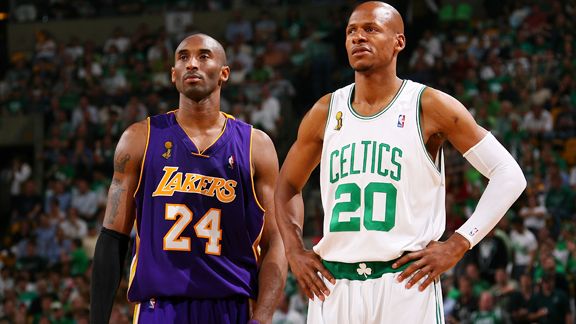 Kobe is a very dangerous player and the Celtics must try to contain him. Ray will need help from the team defense. It's possible that we will see Fisher on Ray at times and Kobe on Rondo. If so, then Ray needs to exploit that matchup.
Paul Pierce vs Ron Artest
These 2 have been going at each other for a long time and there are usually some type of fireworks between these two go at each other. Who can forget the time when Artest pulled down Pierce's pants or their clashes in the Finals? This is always a great matchup to watch and Pierce always gets up to play Artest and vice versa.
Shaquille O'Neal/Kendrick Perkins vs Andrew Bynum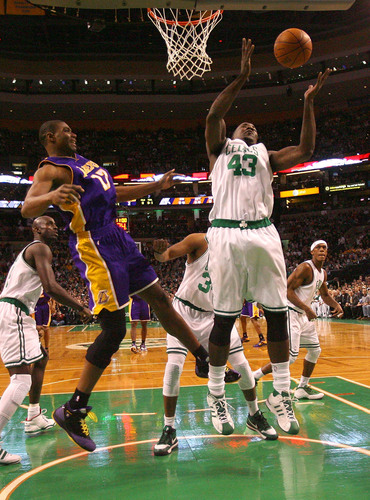 Both centers have extra motivation to beat this team and so whichever center is on the floor, we should see some good play. If the refs give them a chance to play without getting both into foul trouble, the Celtics should be able to defend the paint well.
Bench vs Bench
The Celtics may or may not be missing Baby in this game because of the hamstring injury from the Suns game. If Baby can't play, that makes the Celtics depleted bench even more depleted. The Celtics reserves must be focused and play smart in order to give the starters a rest without giving up anything to the Lakers reserves.
Keys to the Game
Defense
- Both in the Paint and on the Perimeter The Celtics must get their defensive focus and trust back and play the team defense that has made them so tough to beat. In the past two games we have seen this defense in spurts, but the Celtics must get back to playing solid defense for 48 minutes. Taking a few possessions off on defense could result in an uphill battle for the Celtics that they might not be able to overcome.
Rebound
- Rebounding is effort and desire and the Celtics showed neither as they allowed the Suns to out rebound them. The Celtics need to put out more effort and crash the boards to prevent the Lakers from getting second chance points and fast breaks off the rebounds. With the length of the Lakers, the Celtics have to box out and crash the boards or they will give up a lot of points on tip ins and second chance baskets.
Keep their Focus
The Celtics have to come out strong and stay focused for 48 minutes. They can't play in spurts and expect to win against the top teams. The Starters must especially get their cohesion and focus back and play as a team. There is no room for hero ball in this game. Staying focused also includes taking better care of the ball. They can't turn the ball over 20 times against the Lakers and expect to win.
Be Aggressive
- The Celtics allowed the Blazers and the Suns to out play them in their last two games. They allowed their opponents to be the more aggressive team and the results weren't very pretty. The Celtics must be the more aggressive team. They have to go to the basket and get into the paint along with going after loose balls and being aggressive on defense.
Official Report
Joey Crawford
Crawford has been officiating games since 1977 and has officiated more play-off games and NBA Finals Games than any other active referee. There is no shortage of controversy surrounding Joey Crawford, the biggest of which was a suspension for tossing Tim Duncan for laughing on the bench and then challenging him to a fight. He is known for his quickness to call technical fouls but also doesn't tend to be influenced by the home crowd as much as many other refs seem to be. In the 2008 Playoffs, Crawford was chosen to officiate Game 4 of the Western Conference final between the San Antonio Spurs and the Los Angeles Lakers. In the closing seconds of the game, there was a no-call where the Spurs' Brent Barry was unquestionably fouled by Derek Fisher. Crawford was the closest official to the call, and the NBA later apologized for the lack of a call but that was too late to reverse the outcome of the game. Crawford was also one of the refs who was involved in the income tax evasion convictions and was suspended at that time as well. And in the Suns 2010 first round against the Blazers, Crawford made what was possibly the worst foul call of all time when he called Marcus Camby for a foul and put Steve Nash on the line. Camby was nowhere near Nash, but that didn't stop Craawford from calling the foul on him. (video evidence below) Perhaps the most notable example of Crawford's poor officiating was last season's Game 7 between the Celtics and Lakers. With Boston leading going into the 4th quarter, Crawford and his cronies completely changed their style of officiating. For 3 quarters, the game was called loose and they were letting the players play. Suddenly in the 4th quarter, they began to call it tight and all the questionable calls went to the Lakers with the result being a 21-6 4th quarter free throw disparity. The Celtics are 1-1 this season and 4-6 in their last 10 games with Crawford as a referee. The Lakers are 7-3 with Crawford in their last 10 games. Crawford's home W/L record this season is 17-17.
Marat Kogut
Kogut has been in the NBA since 2009. The sun of immigrants from the Ukraine, his younger years were sometimes tough. At one time he and his family were homeless and slept on a park bench when they were forced to leave a Queens homeless center. In high school, he spent his free time volunteering as a ref at a local recreation league. At 6-foot-2, he knew he wasn't tall or talented enough to make the pros as a player. At 16, Kogut became the youngest person certified by the local International Association of Approved Basketball Officials. He spent time working college, D-League and WNBA games before being called up to the NBA. The Celtics are 1-1 this season and 2-3 in the last 5 with Kogut calling the games. The Lakers are 3-2 with Kogut in their last 5 games. His home W/L record this season is 25-10.
Tom Washington
Washington has officiated over 855+ regular season games and 55+ play-off games. The Celtics are 2-0 this season and 7-3 over their last 10 games with Washington calling the game. The Lakers are 8-2 in their last 10 with Washington as a ref. His home W/L record this season is 25-15.
X-Factors
Effort and Health
Big Baby is listed as questionable for this game after injuring his hamstring in the last game. The bench gets very thin if he can't play. The Celtics can't give a half effort in this one. They have to give it 100%.
FLCeltsFan
1/30/2011 01:16:00 PM
Tweet
Edit
_________________________________________________________________________
« Prev Post
Next Post »