at
Boston Celtics (3-1) at New York Knicks (1-1)
Wednesday, October 13
7:30 PM ET
Preseason Game 5
TV: MSG, CSNNE, NBA-LP 751/752
Radio: WEEI
Madison Square Garden

The Celtics make their first trip this season to visit their division rivals, the New York Knicks. Both teams have a different look than they did when they met last season. The Knicks have added Amar'e Stoudamire and should be an improved team this season with him.
Again, it is hard to predict who will play and who won't in preseason games so it is hard to list starting lineups or probable matchups. This is the second of back to back games for the Celtics and the Knicks haven't played since October 6 when they beat the Wolves over in Europe.
The Celtics rested their top 6 players last night and so we should see most of the regular starters in this game. Doc has said that he plans to use this game to look at different combinations and lineups. This will more than likely be the game that we see Jermaine O'Neal play with the starting lineup. Doc also wants to get a look at KG and Big Baby playing together. We should also continue to see Wafer, Lasme and Mario West get playing time as Doc needs to evaluate these 3 players for the 15th roster spot.
Doc has said that Shaq will probably sit this one out to continue to rest his balky hips. Delonte West may rest his back but will probably be a game time decision. Avery Bradley reported some swelling and stiffness in his surgically repaired ankle after last night's debut, so he may be a game time decision as well.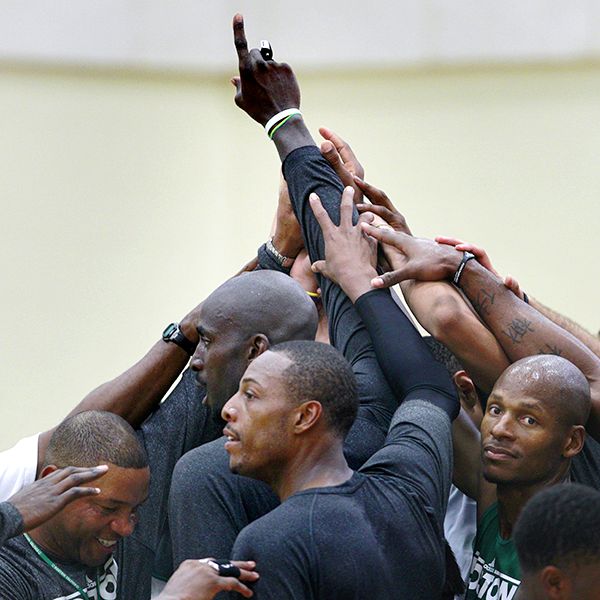 Ubuntu
Probable Starters
PG

SG

SF

PF

C


Rondo.......................Allen...................Pierce...............Garnett .........J. O'Neal
Boston Bench Mob
Avery Bradley
Marquis Daniels
Glen Davis
Semih Erden
Luke Harangody
Stephane Lasme
Shaquille O'Neal
Kendrick Perkins
Nate Robinson
Von Wafer
Delonte West
Mario West
Injuries
Shaquille O'Neal (hips) doubtful
Delonte West (back) questionable
Avery Bradley (ankle) questionable
Kendrick Perkins (knee) out
Interesting Fact: Today is Paul Pierce, Doc Rivers and Jermaine O'Neal's birthday. Let's hope they celebrate their birthday with a win.
Anti-Ubuntu
Probable Starters
PG

SG

SF

PF

C
.... Felton ............Chandler......Gallinari.......Stoudamire.....Mozgov
Bench
Roger Mason, Jr
Anthony Randolph
Timofey Mozgov
Bill Walker
Tony Douglas
Landry Fields
Andy Rautins
Shawne Williams
Patrick Ewing, Jr
Kelenna Azubuike
Eddy Curry
Injuries
Kellena Azubuike (knee) out
Eddy Curry (hamstring) out
Team Connections
Celtics Head Coach Doc Rivers played three seasons for New York from 1992-93 - 1994-95
Amar'e Stoudemire and Celtics center Shaquille O'Neal were teammates in Phoenix for parts of two seasons (2007-09)
Knicks coaches Mike D'Antoni, Phil Weber and Dan D'Antoni coached the duo during the 2007-08 season
Ray Allen authored one of the "50 Greatest Moments at Madison Square Garden" with his game-winning jumper in the 1996 Big East Tournament Championship
Knicks assistant coach Kenny Atkinson (1986-90) and Celtics assistant coach Kevin Eastman (1973-77) played their college ball at the University of Richmond
Knicks GM Donnie Walsh acquired Celtics guard Marquis Daniels for the Pacers in a 2006 trade that sent Austin Croshere to Dallas
Donnie Walsh acquired Celtics forward Jermaine O'Neal for the Pacers in a trade from the Portland Trailblazers on Aug. 31, 2000
Celtics guard Nate Robinson spent four seasons with the Knicks (2005-2006 – 2009-2010), after being traded to the team on draft night in 2005 from the Phoenix Suns.
On February 18, 2010, Nate Robinson was traded to the Boston Celtics along with Marcus Landry in exchange for Bill Walker, Eddie House, and J. R. Giddens.
Bill Walker played 37 career games over two seasons with Bosto
Danilo Gallinari and Celtics forward Paul Pierce were both participants in the 2010 NBA 3-Point Shootout. Pierce won the event, Gallinari finished in a three-way tie for fourth place
Mike D'Antoni coached Celtics point guard Rajon Rondo during 2010 training camp for Team USA
Kelenna Azubuike was teammates with Celtics point guard Rajon Rondo at the University of Kentucky for one season (2004-05)
Celtics guard Von Wafer played for Knicks Summer League team in 2008
Key Matchup
vs
KG gets his first taste of real competition as he faces Amare Stoudamire in this game. Although KG will once again more than likely play limited minutes, he will be stoked to face one of the top power forwards in the league in this game.
FLCeltsFan
10/13/2010 11:23:00 AM
Tweet
Edit
_________________________________________________________________________
« Prev Post
Next Post »