Fall is a great time of year for me. The leaves magically change color and cover my disgraceful lawn like a beautiful quilt.

serious
ass-bruisings to "teams" like the philly cheesesteaks and charlotte slobcats. This new era of Celtics seems to go into a sprint immediately when the starting pistol is fired.
Two years ago, 29-3. Last year, 27-2. This year, 5-0 so far with no one, not even the Lebrons
in
Lebronland, really threatening to win by the end of the game.
Uh, I think someone's tryin to foul me. Let me check... yea, Eddie House is tryin to foul me.
This writer surely believes they can keep up this pace and have another stellar start, but how much does a good start to the season matter? well, I would say it matters a lot. The first time we did it, we brought home the trophy. Suck it, LA. Last time we went two rounds into the play-offs with a couple of big injuries. Suck it anyways, LA. Clearly there is no direct correlation, but by the same logic that getting ahead in a game early makes it easier for you to win for several reasons other than just having the lead, getting ahead in the season makes it easier for you to stay ahead.
With the Marianas Bench on our side (do what you can, but don't hurt yourself trying to get that joke), Doc can really rest our senior citizens effectively and minimize injury risks too. So it seems we can have our early season domination cake, put a few pieces in the fridge for later, then bust it out during the play-offs, eat some more, then ask the Lakers if they think it smells funny. Ha ha, suck it again, LA, and wipe that frosting off your face!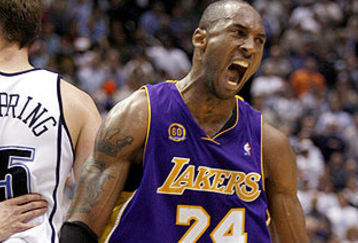 I was just kidding Kobe, chill out before your neck cord explodes.
Three Toe
11/04/2009 01:08:00 PM
Tweet
Edit
_________________________________________________________________________
« Prev Post
Next Post »