I have never seen such an injury plagued squad in my life. The current Celtics actually have no healthy bodies at all. As someone pointed out yesterday, a 36 year old forward with a billion miles in his knees seems to be the freshest of all of the men in green out there.
Last night we received the news that most certainly Avery Bradley will miss the rest of the playoffs. Our starting combo guard who was one of the reasons of the rise of the Celtics by the end of the regular season just couldn't manage his way into a basketball court. It is wiser for him to rest his shoulders and get much needed surgery. If he continues playing he risks having serious career injury problems. We don't want that. We rather save him for the Celtics future team built with him and Rondo in the backcourt. Pure pleasure.
Bradley's injury has exposed the current state of Ray Allen. Let's get this clear: Ray shouldn't be playing either. When did you ever see Allen missing so many open shots or even consecutive free throws? He is also getting killed by Turner. He should be resting those ankles and prepare for surgery. The problem is that he will turn 37 in the summer and this may be it for him. He is giving it all for a chance to reach further in the playoffs.
We should then be looking at Pietrus to share the load of the offense and defense of the 2/3 spots. Guess what? Pietrus is also punishing his body and stealing some more health from his post professional life. His knees prevented him from being able to be sent in a trade with Toronto a year ago and he is not fully healed. What is more, he worsened his condition by playing with us before his recovery finished. He is hurt too, so many missed three pointers. And also that concussion he had by the end of the season in Philadelphia is still haunting him, mentally and physically. He shouldn't be playing too many minutes either.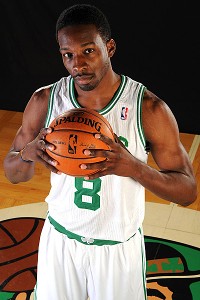 Doc then relies on the captain, the perennial leader Paul Pierce. A leader with strained ligaments in his knees. He still gets up and fights but he should be given some rest as well. By now he should be getting some help from a certain Jeff Green. Remember the promising forward we got in exchange of Perk? Well, he would be so vital now, right? Heart surgery and out for the year.
The same applies to a certain Chris Wilcox, our back up center. Where is the starting center? Do you remember a certain Jermaine O'Neal? Both out for the season with different ailments. Doc moved KG to the center position because he had no other option and it turned out it was the best for the team. With Garnett in the middle and Bradley starting we got faster, more athletic and our offense and defense got wilder.
We are talking about Kevin "da Kid" Garnett here. Yes, he looks much younger out there. At 36 he is being asked to do as if he was 30 and he has been responding. If it hadn't been for KG's amazing play in the last couple of months we wouldn't be in the playoffs. No, I am not exaggerating. Without KG we are virtually nothing in 2012. But you know his knee is and will be forever hurting him, his hip flexors making him ask Doc for a break from time to time. He also needs some help in the middle.
You look then at Stiemsma, another nice surprise of this year. Why does Doc give his minutes to Hollins, notably worse than the Wisconsin center? Well. Greg's foot needed surgery a month ago. He is hurting, bad. But he keeps on playing because this year he got the chance of his life to become an NBA player.
And here we are my friends. The Boston Celtics are still alive, grinding and fighting with everything they have left to reach the Eastern Finals. They are giving it all for us and for the glory of the Celtics. Let's appreciate all the blood, sweat and tears they are shedding out there against the surprisingly resilient Sixers.
We are the Celtics. We don't ever give up. Let's win game 7 on Saturday and keep the dream alive.
Forever Celtics. Forever Big
Bohemian
5/24/2012 08:48:00 AM
Tweet
Edit
_________________________________________________________________________
« Prev Post
Next Post »