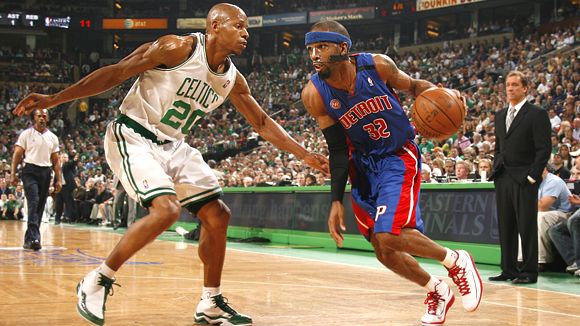 Rip Hamilton has been released by the Detroit Piston, not amnestied, and will be looking to sign with a contender.
Hamilton averages 17 points, 3 rebounds, 3 assists in 12 NBA Seasons (9 with Detroit). His percentages are 45% FGs, 34% 3PT, 85% FTs. Like Celtics Ray Allen, Rip Hamilton is a UCONN alumni and has been compared to Future Hall of Famer Reggie Miller. While Hamilton isn't the three point shooter that Ray and Reggie are/were, he is just as good playing off the ball.
If the Celtics could bring him in it would provide them with a "backup Ray Allen" to back up Ray Allen.
At 6'6" Rip could also play some Small Forward.
Jesse Dampolo
12/09/2011 05:21:00 PM
Tweet
Edit
_________________________________________________________________________
« Prev Post
Next Post »