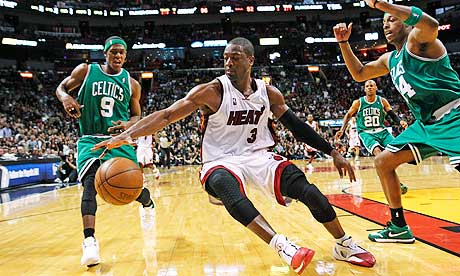 The news is official and we all know that Rajon Rondo won't be playing anymore for Team USA due to family matters. Whatever angle you look at it, to me he made the right decision. It's hard to play hoops when you got more important stuff going on in your head. Life ain't all about the ball.
Looking at the bright side, he's still got a good, solid decade ahead of him to go international and play for his country. And I believe in the end, his choice is all going to end up for the best.
So while Rondo won't be getting any additional experience points, it saves us a lot of time worrying on possible injuries should he have played with Team USA. And the focus for the city of Boston and Green and White fans everywhere are now back to the upcoming NBA season, where just like me, I'm sure you all can't wait to avenge our heartbreaking Game 7 loss.
I frankly still want the Lakers back in The Finals because whipping our frustration out on any other West Coast team just wouldn't feel the same.
With exactly two months left before opening tip-off, I am getting very much restless and excited at the same time. Training camp for the Cs is just on the horizon (I do hope they spend it elsewhere than Newport), and a little bit further down the road is the first initial close encounter with Miami's Third Kind, a must-watch if you've already punched your tickets or at the least, have your sports channel on standby.
Clearly, it's not going to be another easy run for the Celtics. Not when the shift of power is drastically changing from West to East. And if I'm not mistaken, superstars like Carmelo Anthony and Chris Paul have yet to make up their mind.
One of the running advantages Boston has is its rooted philosophy and principles of sacrificing individual talent for what's best for the team. In one word, Ubuntu. And undoubtedly what's best is nothing less than Banner 18, come what may. All of its other inmates in the East still need to figure that out.
The other thing you can bank on if you're a true Beantown fan is their level of maturity. It's no question the Cs are now being branded as a 2002 All-Star Team, with a plethora of age and injury related issues. But along with that, every superstar you can name there (with the exception of Rondo) has already earned their rightful share of glory, fame and even fortune. Compare it to an adult who's already outgrown one's teenage and young adult years.
Which brings me to a classic example on what Paul Pierce said about the Miami Heat, in one of his notes on his
Facebook Fan Page
.
Pretty much sums up the difference between both teams.
___________________________________________________________________________________________
"You know it could come together right away for them, like it did when we brought our whole new team together, but it's all about the sacrifice, it's all about dropping the egos, and it's all about communication. It's going to be hard, you know why? I like to call this barbershop talk, because you go to a barbershop and all you talk about is basketball and sports and people are always saying, 'What if Kevin, Ray, and Paul had gotten together when they were younger? They'd probably have four or five championships. But then you don't take into (account) the fact that we were all in our primes, still trying to establish ourselves at the same time, which is what you're seeing with Miami now.

All of these guys are in their prime. Now, how much of your prime are you going to sacrifice? LeBron right now is an MVP-caliber player. Wade is also, too. And also Chris Bosh. Now, can these guys say for the rest of their careers it's not about winning the MVP? It's about sacrificing the individual numbers for a greater good, and that's winning a championship. I think the great players make the adjustment. If it doesn't work out (the first year), I think as time goes, they'll figure it out."
___________________________________________________________________________________________
We'll get to see a glimpse as Boston will be the first to test drive Miami Version 3.0 on its first game, and sort of do the initiation rites. Either that or we end up getting initiated (I'm crossing my fingers and banking on the first scenario).
Can't wait for another amazing season.
Gerald Alden
8/25/2010 01:47:00 AM
Tweet
Edit
_________________________________________________________________________
« Prev Post
Next Post »