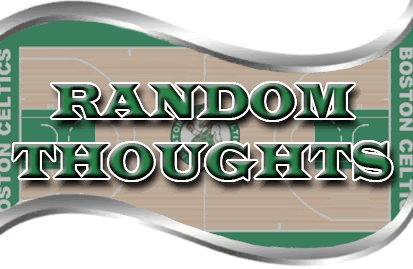 It was good to see the interview with Perk. He said that his rehab is going really well. I wouldn't expect anything less from him. I still remember his first season in the league. In that season, in spite of

getting virtually no playing time, he went from a pudgy high school body to a muscular NBA body. Perk is going to work as hard as humanly possible to get back as quickly as possible. He also talked about how hard game 7 was for him, knowing that if he was playing the outcome would have been different. When he comes back, he is going to be on a mission. I've heard people say that Perk may not be back at 100% but I believe that he will be back and back all the way. He just works too hard not to be. He put in a lot of work before he even had the surgery to strengthen the knee in advance so that the recovery time would be quicker. I expect him back sooner than expected and better than most expect.

I read the other day where the Fakers are talking about a trade for Delonte West. Delonte, Ron Ron Artest and Matt "I will kill you" Barnes all on the same team would set a record for crazy and may even set off some kind of seismic crack in the universe. All joking aside, I loved Delonte when he was with the Celtics and even though he took on some of the ego that emanated from LeJerk in Cleveland, I hope he can get himself on the right track and do well.



Von Wafer is very happy to be a Celtic. Not long after his signing was announced, he posted this to Twitter (vonwafer13)

Thank u god thank u so so so so much ur so good to me yes thank u mr ainge thank u coach rivers thank u thank u thank thank u all
And recently in an interview with Slam Online he had this to say:
"I just hope to help the team," says the 25-year-old over the phone. "I'm all about the team first. I want to do anything I can to help make this a better team. Coach Rivers said, 'If you're not going to be a team player I don't want you here.' So I'm just gonna do my best to help make us a stronger group."
He is going to Boston Sunday and plans to work with the coaches learning the defense and getting familiar with the team. He may not be the most well known option that the Celtics had, but he sounds like he is going to fit in just fine.
If and when the Celtics sign Luke Harangody, the roster will be at 14 guaranteed contracts. This includes Rasheed Wallace, who, according to Danny, will definitely be retiring. This kind of leaves Gaffney and Lafayette out in the cold. Their deals are non-guaranteed. But, I like both players. They have also invited Matt Janning and DeShawn Sims to training camp. There may be a tough fight between 4 guys for one spot in training camp, unless Danny makes a couple of trades to free up a spot or two.
The Celtics still could use one more big man and one more wing with some size. I'd love to see Danny trade Sheed for Shaq and either Moon or Parker. Or he could use it to bring in Rudy and Przybilla. Or, maybe even what's behind door #3. The fact is that we still have a chip left that we can use to get a good player or two if Danny uses it right. Shaq is chasing another big payday and has even checked out his options in Europe. If I were him, I'd be chasing that 5th ring so that Kobe couldn't hold that over him. It seems to be that at this point in his career, bragging rights would be worth more than a few more million. Unless of course, he has spent all those $200 million he has made.
Well, that's it for this edition of random thoughts. I just want to close by saying that I am very happy to be a part of the CelticsLife family. Thank you for welcoming me here. I'm looking forward to celebrating the Celtics 18th championship with you this season!
Don't forget to check out the Celtics Green Forums.
FLCeltsFan
8/01/2010 09:32:00 AM
Tweet
Edit
_________________________________________________________________________
« Prev Post
Next Post »