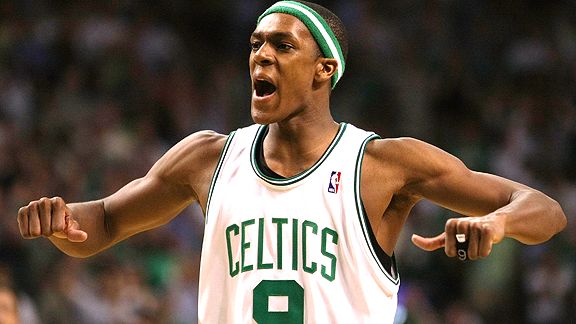 Paul Forrester of Sports Illustrated recently held an in-depth interview with Rajon Rondo. It's up on their site now. About 17 questions. Here's one:
SI.com: How have you developed the confidence to direct the multiple All-Stars on your team, to make sure your voice is heard?

RR: I've never had that problem. There may be times I say stuff I shouldn't say. When I play with Kevin, Paul and Ray, I don't really look at them as 10-time All-Stars; I look at them as great teammates that I love playing with. And I don't get shy telling those guys what to do once in a while. Whether I'm right or wrong, I'm going to voice my opinion. At times it's not the right thing to do and at times it is. But I'm still learning. Those guys are vets, and they know more about this game than I do They're almost 10 years older than me, so I have to pay attention to them, along with Coach Rivers. He's been around this game for as long as I've been alive.

Here's the link:
http://sportsillustrated.cnn.com/2009/writers/paul_forrester/09/22/rondo/
JR
9/22/2009 07:31:00 PM
Tweet
Edit
_______________________________________________________________
« Prev Post
Next Post »