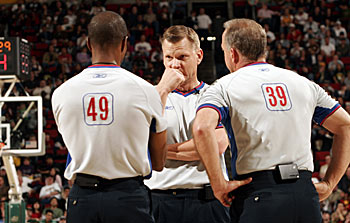 The New York Times:
N.B.A. referees unanimously rejected the latest contract offer from the league on Wednesday, during a seven-hour meeting at a Chicago hotel. But they have not given up on making a deal to avert a lockout. After voting by 57 to 0 to reject the N.B.A.'s latest offer, the referees agreed to stay indefinitely at the hotel until a new contract was done. Lamell McMorris, the chief negotiator for the referees union, called it "a lock-in."



http://www.nytimes.com/2009/09/17/sports/basketball/17sportsbriefs-nbarefs.html?_r=2&part
Avoiding a lockout is very good. Avoiding Lebron's travels and fouls? Not so good. Here's hoping the league and the refs union can come to a deal.
JR
9/17/2009 05:47:00 AM
Tweet
Edit
_________________________________________________________________________
« Prev Post
Next Post »