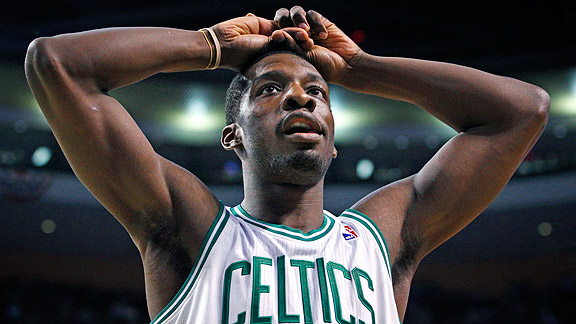 In 1986 The Boston Celtics were coming off on an NBA Championship but, through the work of Red Auerbach, had wound up with the 2nd overall pick in the NBA Draft. The Celtics would pick 6'8", 210 pound forward from Maryland. Bias attended Northwestern High School in Hyattsville, Maryland. Len Bias was considered by some to be Michael Jordan's equal... maybe even better. Within 24 hours of being drafted Bias (age 22) was pronounced dead in Leland Memorial Hospital in Riverdale, Maryland. The cause of death was cardiac arrhythmia related to usage of cocaine.
Bias was supposed to be The Celtics next star. The plan was for him to start slow behind Larry Bird, then increase his role as the other stars faded, obviously that never happened. The Boston Celtics would wait over 2 decades for their next Championship.
Two months after the death of Len Bias, just 20 miles for Bias' final resting place, Northwestern High School's next great basketball star... Jeff Green.
While at Northwestern Green would accomplish something Bias could not, win a State Championship. Green, like Bias, would also be named a McDonald's All-American and go on to a great college basketball career.
Unlike Len Bias, Jeff Green went to Georgetown University. Green's head coach John Thompson III had high praise of Jeff saying, "You'll stop and think when I say this, but it's true: Jeff Green is the smartest player I've ever coached. You would know this better than most: that's a hell of a statement."
When Green was being scouted for The NBA Draft many scouts came up with Lamar Odom as an "NBA Comparison".
_________________________________________________________________________________
Jeff Green College Scouting Report.
Pros:
*Versatile player whose all around ability creates mismatches for opposing teams
*Above average passer with great court vision to recognize open teammates
*With his size and length he is capable of guarding a multitude of positions on the floor
*Unselfish player almost to a fault
*Decision making ability is very good, rarely does Green make mental mistakes during crucial moments in a game
*Owns tremendous body control, capable of hanging in the air and finishing after contact
Cons:
*While improved this year, Green still isn't very comfortable shooting from the perimeter
*Struggles to consistently create for himself off the dribble where his moves remain undeveloped
*Has a tendency to force passes that aren't there leading to turnovers
*Needs to develop more of a scorers mentality at times he doesn't assert himself on offense
*While he possesses a great deal of small forward skills, some may consider him more of a pf
_________________________________________________________________________________
For the most part, most would agree that Matthew Maurer's scouting report has come to fruition. The only things that we haven't really seen are the ball handling and passing skills. Come to think of it, why would we?
What most people don't realize is that not only is Jeff Green switching to a different team, but he changing his role, the style of offense, and the position he plays. In OKC Green was a power forward who spaced the floor and would see the ball in transition or when Kevin Durant was seeing double teams. In Boston he will be handing the ball on the perimeter, posting up smaller defenders, and at times looked upon to isolate and be "the man" in certain lineups.
Going into his 2nd year in Boston many people were already writing him off. Analysts all over town have talked about how much Green "sucked" last season, how this was a horrible move that has cost the team it's future. Meanwhile other felt that Rondo was a product of the legendary players alongside him, and how effective he would be with Kendrick Perkins and 3 other guys. Some would say that a 6'9" versatile, above average passing, unselfish, Small Forward with tremendous body control and great decision making would, well, be a great pickup.
Within the past week The Celtics have officially announced that Green will miss the entire upcoming season after he undergoes surgery on Jan. 9 to repair an aortic aneurysm. The problem was detected in his physical during training camp.
Jeff is expected to resume his career following his rehab but there's no doubt the Celtics will miss him this season. Rondo (25), Green (25), and Bass (26) could provide a new core to pair with The Big 3. Without Green the Celtics will be forced to seriously depend on Marquis Daniels (31) along with the continued minutes to Ray Allen and Paul Pierce.
Assuming that all goes well with Jeff Green, Boston will still have an improved core going forward. If no trades are made for Rondo it'll be him and Green as Boston's dynamic duo going forward. This could be a very effective duo. Of course this is providing Green improves on those negatives that still remain from his Pre-Draft scouting. Jeff Green has all the tools to be an NBA superstar... he's only missing that superstar mentality. Superstars don't pass up big shots when there. Superstars don't look to pass when they have a mismatch. If Green is going to become the Celtics future All-Star SF needs to develop into a 6'9" Paul Pierce. He needs to be the type of guy that can shake off a 1-10 shooting night and dominate the 4th quarter without hesitation. Paul Pierce is now Larry Bird, and he needs Jeff Green to be Len Bias.
Jesse Dampolo
12/24/2011 08:00:00 PM
Tweet
Edit
_________________________________________________________________________
« Prev Post
Next Post »