While we wait for Danny to make his next move, I thought I would share some fun information from a book that I read called "The Unofficial Guide to Basketball's Nastiest and Most Unusual Records by Kerry Banks. Here are a few you might enjoy.

Most derogatory nicknames handed out by a broadcaster
Dozens: Johnny Most


The voice of the Boston Celtics for 37 years, Most was a self proclaimed homer, someone who, as one referee stated, could cause a riot at a High Mass with his emotional, pro-Celtic descriptions. Most turned shoving matches into "bloodbaths" and minor fouls into "vicious muggings." Once, during a game in Detroit against the Pistons, he loudly declared, "Oh, the yellow, gutless way they do things here." Most frequently bestowed unflattering nicknames on Boston opponents. Kareem Abdul Jabar was "Kareem Puff." Dennis Rodman was "the Supreme Hot Dog." Isaiah Thomas was "Little Lord Fauntleroy." Washington's physical duo of Juff Ruland and Rick Mahorn were "McFilthy and McNasty." As Boston's director of basketball operations Danny Ainge observed, "I always believed we had thirteen guys on the active roster - twelve in uniforms and the thirteenth - Johnny Most- was high above courtside."

First player to have his number retired twice by the same team.
Bill Russell, Boston Celtics

Russell was a complicated and prickly character: he didn't sign autographs and was uneasy with public adulation. The Celtics had intended to retire Russell's No. 6 in a pre game ceremony, but when Russell refused to participate, the team raised his number to the rafters in a private ceremony at Boston Garden on March 12, 1972. Twenty seven years later, on May 26, 1999, a more mellow Russell allowed his No. 6 to be re-raised to the top of Boston's FleetCenter in a special tribute hosted by comedian Bill Cosby. An estimated 12,000 fans attended.


First Player to refuse to have his number retired
Jim Loscutoff, No 18, Boston Celtics




A hard nosed forward who won five titles with the Celtics from 1956 to 1964, Loscutoff declined to have his jersey number retired so that a future Celtic player could wear it. Instead, a LOSCY banner was hung in Boston in his honor. the jersey number was in fact later used and then retired in honor of another Boston star: Dave Cowens.


The First NBA team to retire the number of a player who never played for the team
New Orleans Hornets, Pete Maravich, No 7 Oct. 20, 2002



The Hornets' decision to retire Maravich's No 7 during halftime of the newly transplanted team's season opener in 2002-2003 was pure PR. Maravich did star in New Orleans at one time, but for a different franchise: The New Orleans Jazz.

(I know this is not Celtics related, but Pistol Pete holds a special spot in my heart. I'm reading the book "Maravich" and it is an excellent book. Pistol Pete was one of the best ever. I just wish he could have stuck it out with the Celtics one more year to get his ring.)

Largest Chest on an unofficial mascot
88 inches: Busty Heart, Boston Celtics.


Largest Chest on an unofficial mascot
88 inches: Busty Heart, Boston Celtics.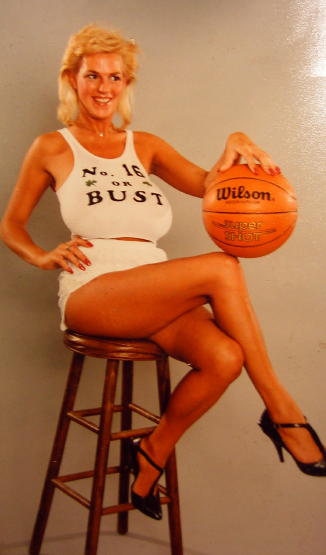 Stripper Busty Heart and her massive 88 inch bazooms bounced into the public eye during Game 1 of the Celtics 1986 playoff series with the Atlanta Hawks. The tall blonde caused a major commotion at Boston Garden when she began dancing in a tight halter top right next to a CBS TV camera. The uproar prompted Celtics radio announcer Johnny Most to explain to his listeners: "There is a blonde with very large assets dancing in the stands. She looks like Morganna but much larger." The voluptuous Heart became Boston's unofficial mascot, and from her seat near the Hawks' bench she created such a visual distraction that Atlanta coach Mike Fratello later claimed she cost his team at least one win in the series, which the Celtics took in five games.

(In case you want to know more about her you can go here. The 1986 Celtics had Busty Heart. The 2008 Celtics had Gino.)

Latest starting time for an NBA game
Midnight: Boston vs Fort Wayne, February 21, 1952


As a marketing ploy this left something to be desired. The Celtics and Pistons tipped off at midnight in a 'Milkman's Special" following an Ice Follies show at Boston Garden. (In that era milkmen rose early to deliver milk to customers' homes). The game, which Boston won 88-67, attracted 2,368 fans, some 2,000 less than the Celtics' average gate that season.

Longest game delay caused by noxious fumes.
9 minutes: Boston vs Los Angeles Clippers March 7, 2003


The third quarter had just ended when Boston's players suddenly bolted from their bench, gagging and coughing and covering their faces with towels. The possibility of a terrorist act immediately came to mind, and in the ensuing confusion, Celtics coach Jim O'Brien tried to convince the referee to postpone or cancel the rest of the game. But NBA officials, working with Boston police and FleetCenter security, decided that the substance was most likely pepper spray or Mace released as a prank. The suspected culprits were four men who abruptly left the building before fans and players began having trouble breathing. The game was resumed after a nine minute delay. Boston won 83-72.

Longest retirement before returning to play
7 years: Bob Cousy 1963 to 1970


In 1969, six years after he retired as the NBA's all time assists leader, Cousy was appointed coach of the Cincinnati Royals. By coincidence, the team was led by guard Oscar Robertson, who had just eclipsed Cousy's NBA record for career assists. In his second year as Royals coach, the 42 year old Cousy suited up and played seven games in a bid to generate fan interest. With Cousy and Robertson manning the backcourt, the Royals boasted the two highest scoring set up men in NBA history.


Only team to draft a paralyzed player
Boston Celtics, June 29, 1982.


Indiana's Landon Turner was paralyzed in a car accident just prior to the 1982 draft, a few months after his team won the NCAA title. As a favor to Indiana coach Bobby Knight (who started a fund that raised 400,000 to defray Turner's medical expenses), and to lift Turner's spirits, Celtics GM Red Auerbach drafted him in the 10th round. In 1989, Turner received the Coors Light US Basketball Writers Association's Most Courageous Award after returning to the court with a wheelchair basketball team. Today he is a motivational speaker in Indianapolis.

Most future Hall of Famers on one team
8: Boston Celtics 1962-1963


The Lakers attracted media attention in the 2003-04 season by fielding a team with four likely future Hall of Famers: Gary Payton, Karl Malone, Shaquille O'Neal, and Kobe Bryant. But that's half the total of Hall of Famers on the roster of the 1962-63 Celtics, whose lineup included Bill Russell, Bob Cousy, John Havlicek, Sam Jones, Tom Heinsohn, Frank Ramsey, K.C. Jones, and Clyde Lovellette. No surprise, the Celtics won the title that year.

Don't forget to visit the Celtics Green Forums.

FLCeltsFan
8/02/2010 01:41:00 PM
Tweet
Edit
_________________________________________________________________________
« Prev Post
Next Post »