Danny is 0-3 with players he has invited to the Celtics' 2010-11 training camp to be held at a yet to be disclosed location.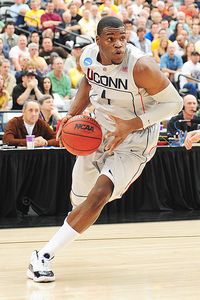 After the Celtics Summer League, Danny issued invitations to the Celtics training camp to two players who impressed in camp. The first went to Matt Janning, who did indeed impress, but left several days early to join the Suns' Summer League entry in Vegas. Janning didn't accept the invitation right away and with good reason. He was given a 2 year minimum salary contract with the Suns. I guess he decided, and probably rightfully so, that a guaranteed spot with the Suns was worth more than a maybe with the Celtics.
Then, Danny offered DeShawn Sims an invitation to training camp. He was another player who impressed in Summer League and would have given the Celtics depth at the small forward spot, where they very much need it. After considering the offer, Sims turned it down and accepted a one year deal to play in Greece with PAOK Thessaloniki.
Today,
Chris Forsberg on ESPN
(one of the best there is of getting out the Celtics' news) reports that the Celtics offered the University of Connecticut's Jeff Adrien an invitation to training camp. Adrien didn't even take time to consider it, but turned down the offer right away. Here is what he said about his decision to turn down the Celtics' offer:
"I felt like with the Celtics, they're stacked over there, but it wouldn't be the right situation for me. Right now it's a business thing, and you've got to do what's best for you. I thought that was the best decision for me."
Players see the crowded roster and, even though the Celtics still have a need for a shooter and backup at the 3, they decide to look elsewhere where they might have better odds of making the team. There is still Tony Gaffney and Oliver Lafayette, who are still on non-guaranteed contracts and hoping to land that last spot. Personally, I think they could do a lot worse than Tony Gaffney, and would like to see him get a chance in camp to show what he can do.
FLCeltsFan
8/27/2010 12:42:00 PM
Tweet
Edit
_________________________________________________________________________
« Prev Post
Next Post »