at

Los Angeles Lakers (2-2, 14-6) at Boston Celtics (2-2, 14-7)
Postseason Game #22 – Home Game #12
Sunday, June 13
8:00 PM ET
TV: ABC
TD Garden
Referees: Joey Crawford, Mike Callahan, Derrick Stafford In the first four games, the teams have alternated wins with Lakers winning 1 and 3 and the Celtics winning 2 and 4. The Celtics must break that cycle if they want to win this series. This would be a great time to do it in their last home game and go back to LA up 3-2.

Bynum sat out most of the second half and is listed as questionable for this game but he insists he will be ready to go. He had his kneed drained again on Friday and insists he will be ready to play. His presence in the middle makes it much more difficult for the Celtics but not impossible, as the Celtics won game 2 with Bynum playing very well. His absence would make it difficult for the Lakers since Odom hasn't given them much so far in the series.

The two days between games should allow both teams to come into this game more rested and ready to play. Ray, Paul and KG will benefit from the extra day off and hopefully once again have their legs under their jumpers. Rondo and Sheed can use the extra day to rest injuries. The Lakers unfortunately will also benefit from the extra day because their starters have been playing a lot of minutes and Kobe especially looked gassed at the end of game 4. It may also allow the swelling to go down in Bynum's knee, allowing him to play in this game.

The officiating has been very inconsistent. In game 4 they allowed both teams to play more and cut down on the fouls called. Allowing a more physical game benefits the Celtics style of play. But, in the first 3 games, the refs called the games very tight and and neither team could really get any rhythm and that benefits the Lakers because it doesn't allow the Celtics to play the defense that makes them so dangerous. Hopefully, even through we will have 3 of the refs who called games 1-3, hopefully they will let them play a little more in this one.

The Celtics have struggled with their offense in games 3 and 4 and hopefully Pierce, KG and Ray will all have a good game offensively after an extra day of rest. Rondo also must be aggressive and run at every opportunity. Perk must crash the boards and the bench has to continue their strong play. Just as with game 4, the Celtics must consider this a must win game. I hope the Refs let them play.


Point Guard: Rajon Rondo
Shooting Guard: Ray Allen
Small Forward - Paul Pierce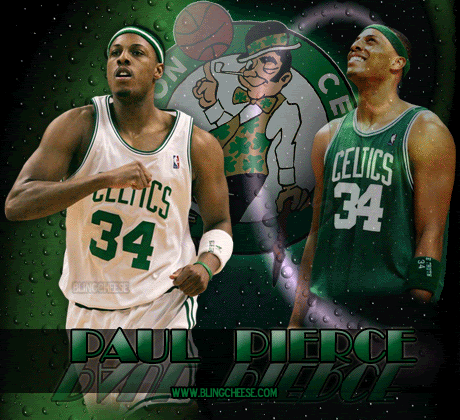 Power Forward - Kevin Garnett
Center - Kendrick Perkins

Key off the Bench
Big Baby Davis and Nate Robinson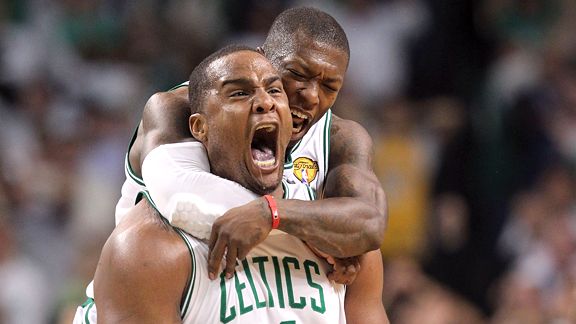 Point Guard - Derek Fisher
Shooting Guard - Kobe Bryant
Small Forward - Ron Artest
Power Forward - Pau Gasol
Center- Andrew Bynum

Key off the Bench
Lamar Kardashian
Key Matchups
vs

Rajon Rondo vs Derek Fisher
The point guard matchup is always going to be a key. Rondo must be aggressive and push the ball on every opportunity. He also must keep Fisher from getting in a rhythm because, as we learned in game 3, he is capable of hitting some big shots if left open.

vs

Kevin Garnett vs Pau Gasol
The Celtics will need the aggressive KG going to the basket and leading the defense that we saw in game 3. He must also fight for rebounds as rebounding is very key to winning. Gasol is very good at getting offensive rebounds and put backs and KG has to box him out and keep him off the boards.

vs

Paul Pierce vs Ron Artest
Paul Pierce finally got his game going in game 4 and the Celtics The Celtics need the Captain to take control and go to the basket early and often and get to the line as he did in game 4. The Celtics need an aggressive Pierce getting to the hoop and to the line if they are to win this game.
Keys to the Game
Rebounding - In every game so far, the team that has won the rebounding battle has won the game. A big part of rebounding is effort and desire and that's the reason that so often, the team that gets the most rebounds will be the team that wins the game. That is the team that wants it more and fights harder to win it. The Celtics must be that team in this game.
Defense - When the Celtics play their team defense, it is very hard for any team to beat them. When the refs call the game too tight and key players pick up early fouls, it tends to take them out of their defense early. Hopefully the refs will let them play in this one. Regardless of how the game is called, the Celtics can't falter on defense. They must make that a priority as the 2 games they have won have been won with their defense.
Play Team Ball - The Celtics must play as a team. They have to run the offense and move the ball to find the open man. They can't lapse into hero ball. They have to play team defense also and each player has to fill his role. The best TEAM will win this series and the Celtics give themselves a better chance of winning when they play as a team.
Bench Play - The Bench must continue to give the team a boost when they come in. Sheed is very important and hopefully he will be able to play effectively with his bad back. In game 4, it was the play of the bench that won the game down the stretch, playing against the Lakers' starters. The energy and fresh legs off the bench will be key once again in this game.
Hit their shots - The Celtics must hit their shots when they get open. Shots that they normally make were rimming out in both games 3 and 4. I'm sure much of that was tired legs. When the jumpers rim out they have to go to the basket and not continue to fire up bricks from the outside.
X-Factors
Officiating and Energy and Hustle
In game 4, the refs finally let them play and it made it a much more enjoyable game to watch. Hopefully Herr Stern has read all the articles complaining about the refs making themselves the story instead of the game and has instructed them to let the players decide the game. The way the games have been officiated and having key players in foul trouble has had a much bigger effect on the outcomes than home court in this series.

The Celtics must be the team that plays with more energy. They have to win the battle on the boards. They must win the battle for loose balls and they have to hustle on every play on both ends of the court. The team that plays harder and and plays with more energy will more than likely be the team that wins the game.


[Discuss on CG Forums!]
FLCeltsFan
6/13/2010 03:53:00 PM
Tweet
Edit
_________________________________________________________________________
« Prev Post
Next Post »